Well here is a vid of my car on the rollers: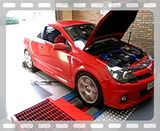 When the car was run on the rollers it had 1/4 tank of 95 mixed with 3/4 of 97 (didn't get chance to run in fully with 97). I used to run the car on 95 all the time as my company only allows me to buy 95 on a fuelcard, however on the way down I put 97 in when refuelling as I'm aware a mapped car should not run on anything lower. From now on it will be 97+ as I'm now footing fuel bill. Because of this we left the car on a slightly less aggressive map but, and you'll see from the stats below, once the car is fully on 97+ and the ECU has adjusted it'll be pushing the 295 mark.
The charts show two lines with two maps which we tried out. The more aggressive map produced 298.9BHP @ 5482 and 329.2 LbsFt @ 3998. The less aggressive produced 292.5BHP @ 5537 and 313.4 LbsFt @ 3949. When running the aggressive map the knock was up to 6 degress of retardation being reported, and none on the less aggressive. After chatting with Jon and explaining the fuel it was decided that less aggressive map was better and once learned with the new fuel the car would be producing 295.
At some point I'll have to get a few tanks of 99/V-Power through and then get it onto rollers as that could well be hitting 300, or even 300+ if I took the more aggressive map.
All in all really happy with the results and again many thanks to all at Courts.