So as im sure sure some people are aware i have been meaning to post up a thread since xmas but been holding off as some parts are still not here but what the hell, i can always update....
SO... following a lenghty disuccion with john thorne at PVS last year i decided to make the leap from st3 to st5 for my red astra vxr. it had been custom mapped in may of 2009 at thorney at managed around 291bhp and about 350 nm torque. had a regal inlet cam and now has a set of eibach springs, whiteline adj roll bar and TMS APracing brakes. but a boys never happy so as soon as i got home from PVS 2010 the car was in the garage (never to see the light of day for a loooong time).
heres a pic of how it looked prior...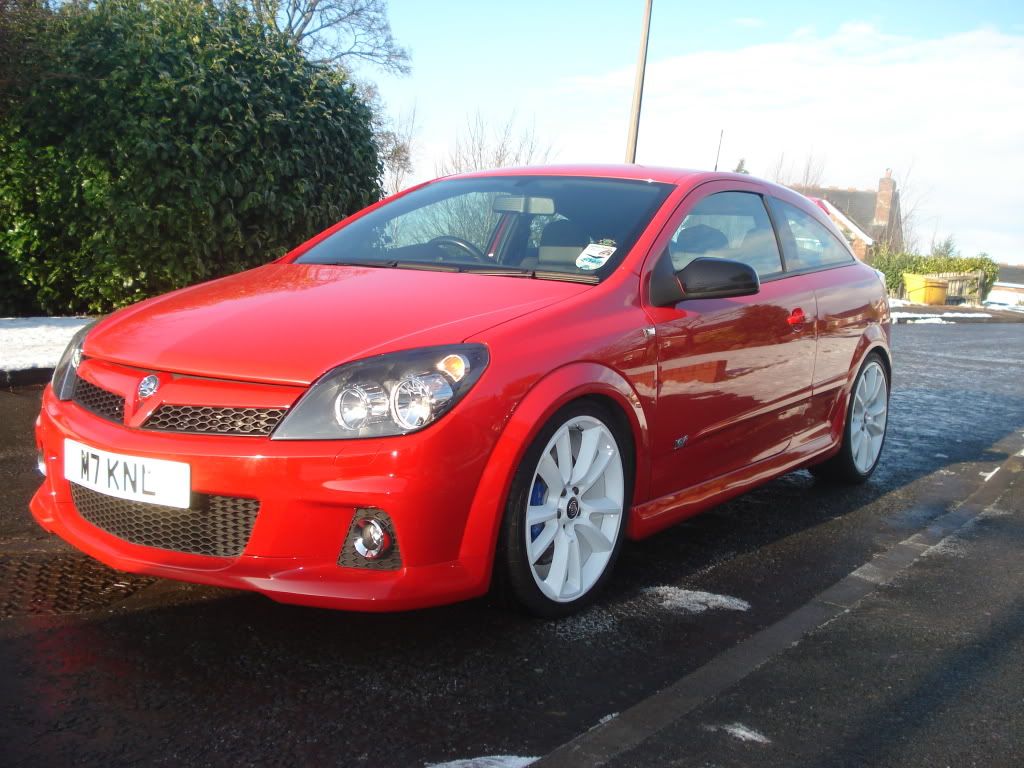 got the bumper ripped off and started the dismantle properly over the weekend. the plan was to get the engine out over the weekend and half stripped. My brother done most the work and i was just the appretice as usual hepling as much as i could. the pics should show the work for itself.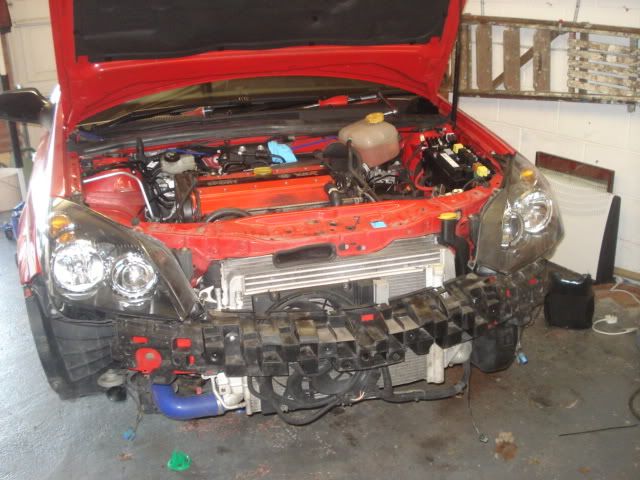 turbo and a whole load of other bits off
had to jack the car up as far as we could in the garage to slide the engine out from under it with the gearbox and all that stilll attatched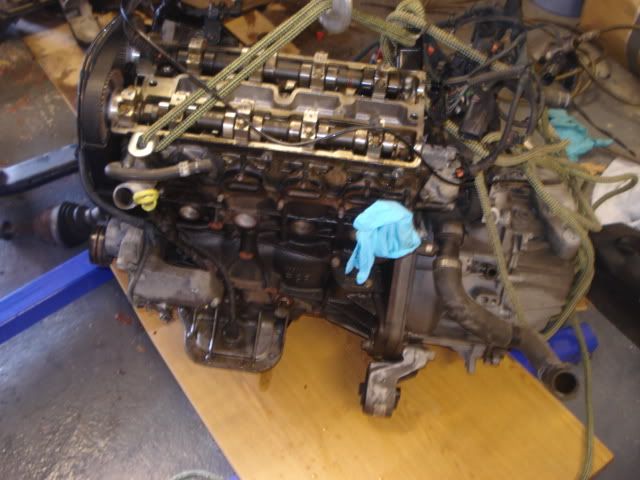 after abit of blood, sweat and a whole lot of swearing the engine was freed the next day (quite good going we thought haha)
a big hole where it used to sit but it gave me a chance to get in about it and give it a good clean out.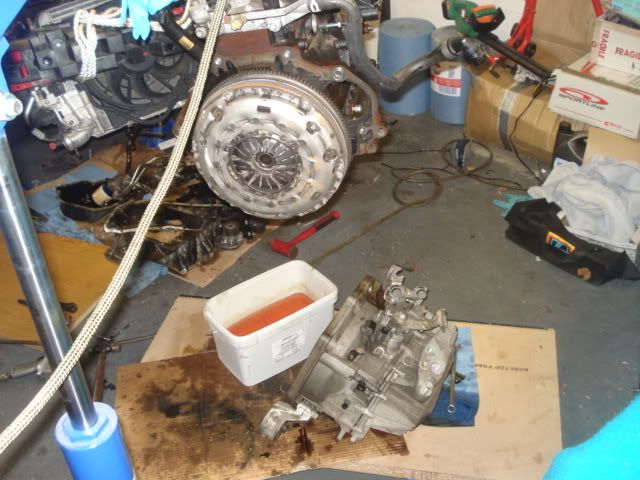 gearbox seperated once it was out car to make life easier
just stripping it down to a bare block now bit by bit
sadly this is how the car sat for almost 8 MONTHS!!!! as thorney couldnt get the pistons off of Wossner. i have to give john his due tho, he never shy'd away from my weekly phonecalls for updates. did eventually start chasing up PEC myself as patience was getting very thin as you can imagine but Dave at PEC were aslo extremely helpfull. i would recommend him to anyone thinking of buying from them...
however, i returned home from PVS with an EDS inlet manifold and CDTi airbox setup (had previously had the 2.2 airbox).
so we built up the manifold onto the head while we waited on the pisons arriving. john had sent out everything else, the turbo, exhaust manifold, new milltek race and other bits n bobs. too many boxes...ha. and had also purchased a quaiffe diff from LMF with the bearings. few pics of these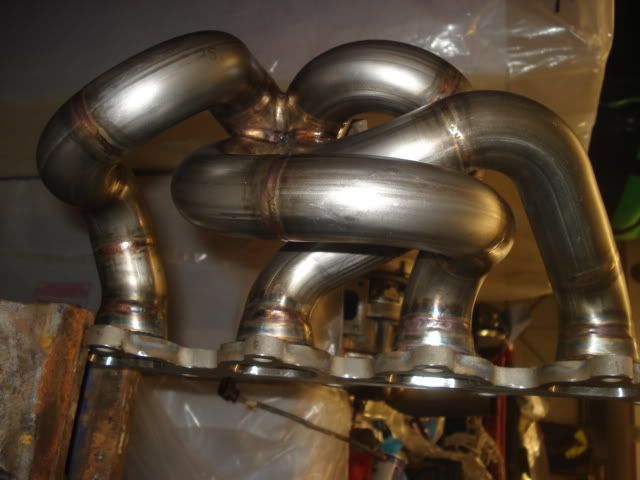 posibly the coolest thing about the car...hahah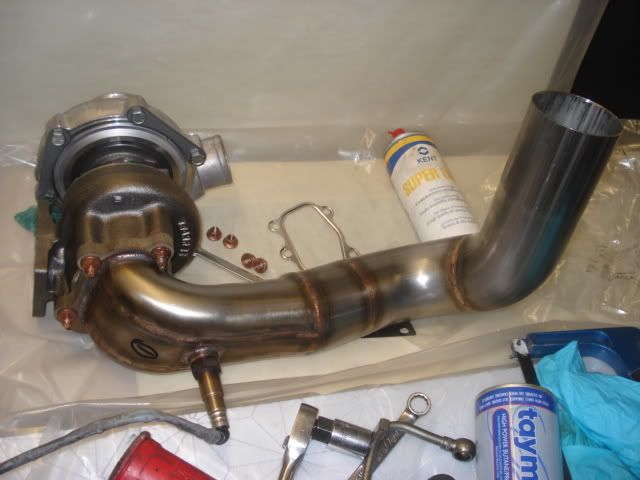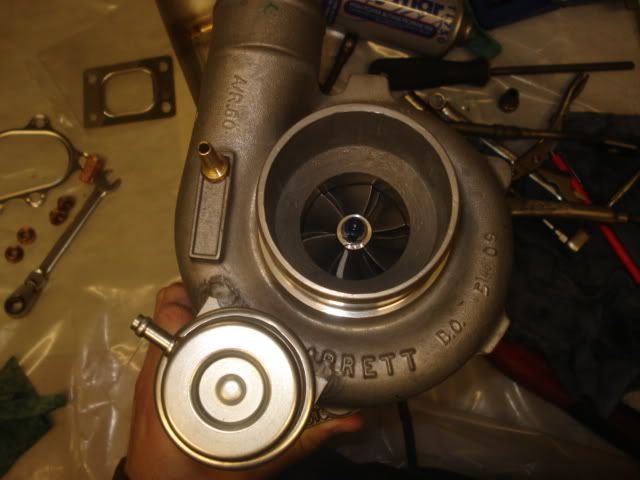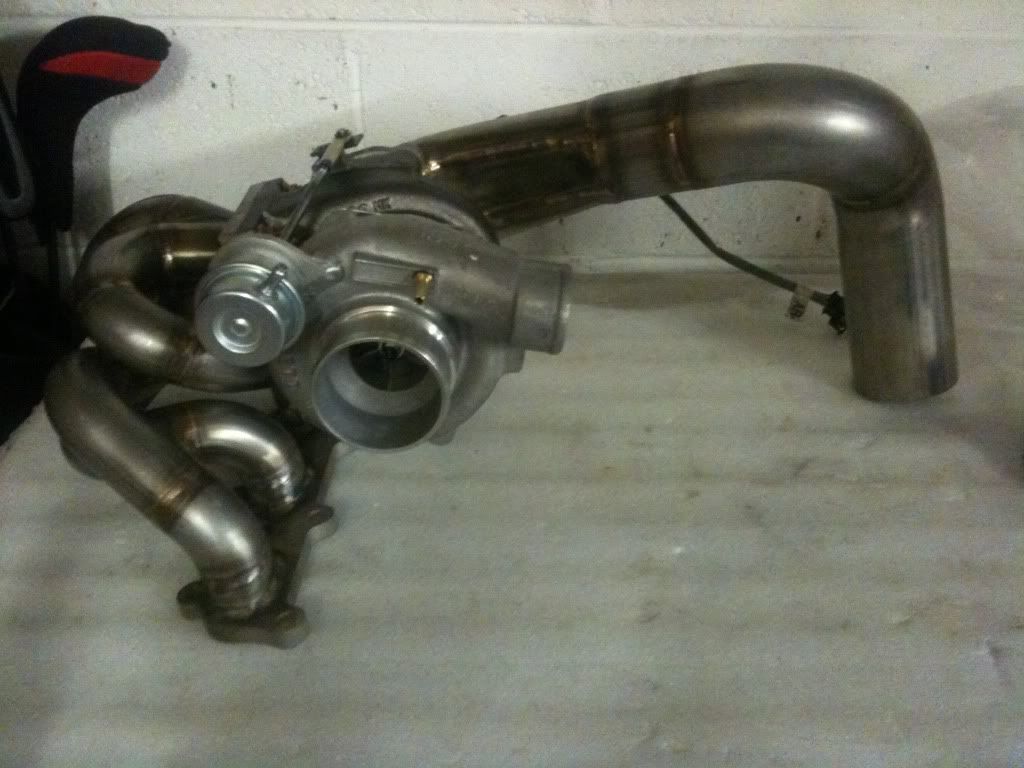 TMS Ball bearing garret and there custom downpipe
EVENTUALLY the pistons arrived and as soon as they were the block was sent off to the local engine builders (TM Mckean Ltd) to get the block skimmed and bored out to match the pistons. this only took a couple of days as he had been warned prior to him recieving the block and his service is top notch with no job to much of a burden to him...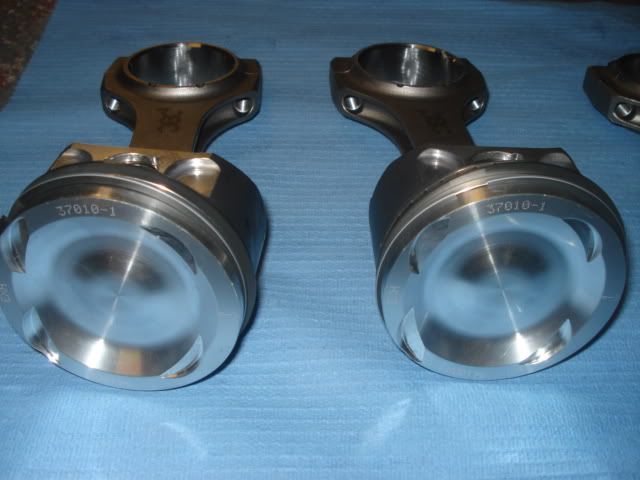 nice and shiney....
once the block was back the rebuild couldnt be done quicker as i was constantly pestering my bro to get on with it (working on it round his dayjob) and we really just wanted to hear the car fire into life again after 8months. what we could fit onto the car was fitted so that the whole engine could be anchored into the car as there was going to be very little space with that manifold....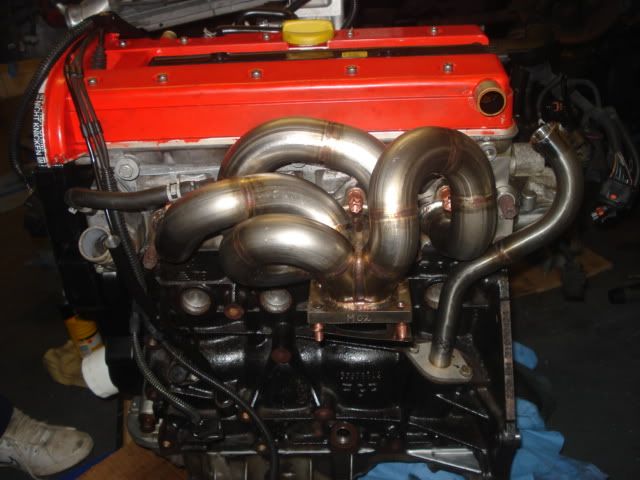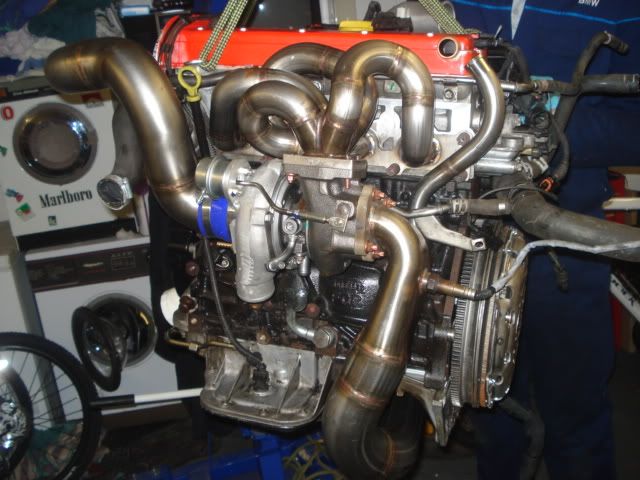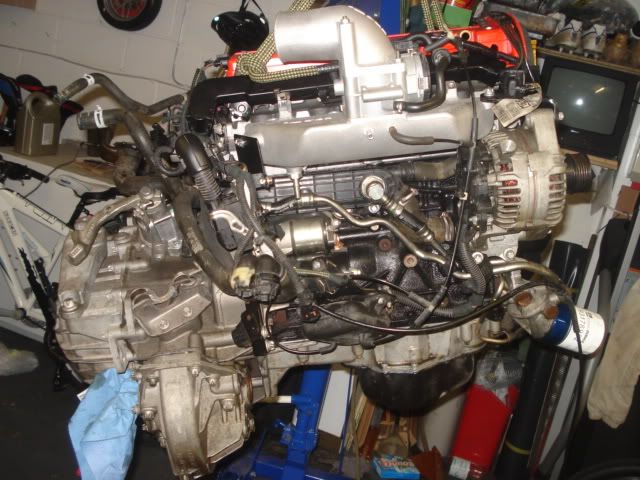 so with alot of cursing again and a few fallouts, we got it up into the engine bay...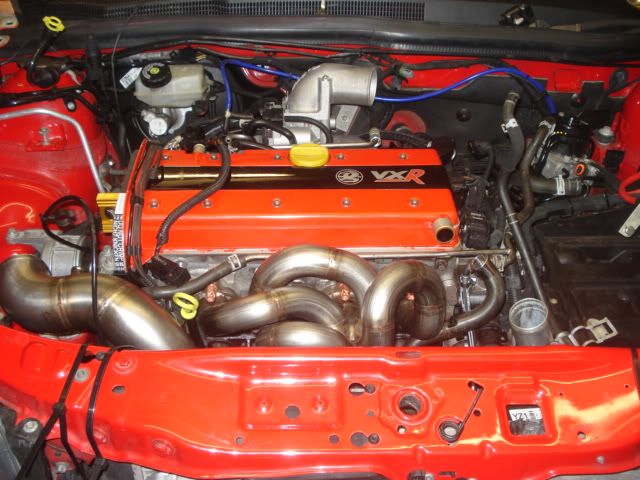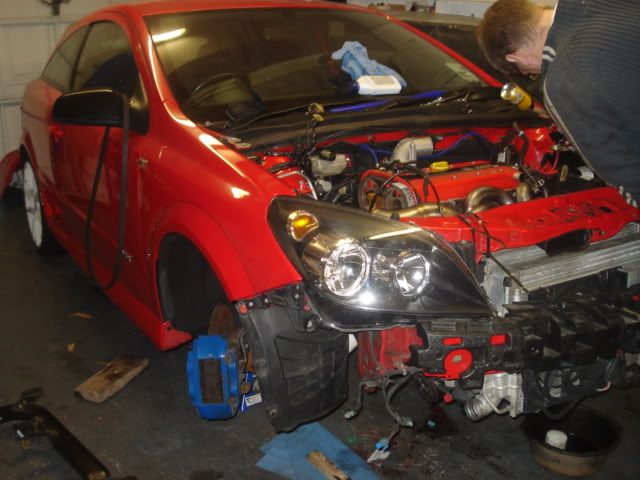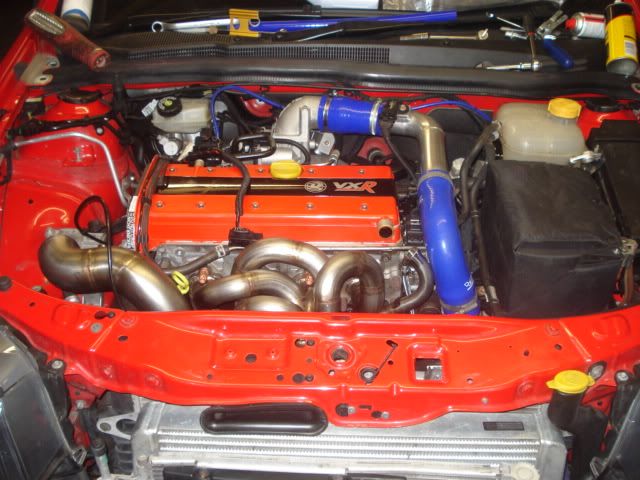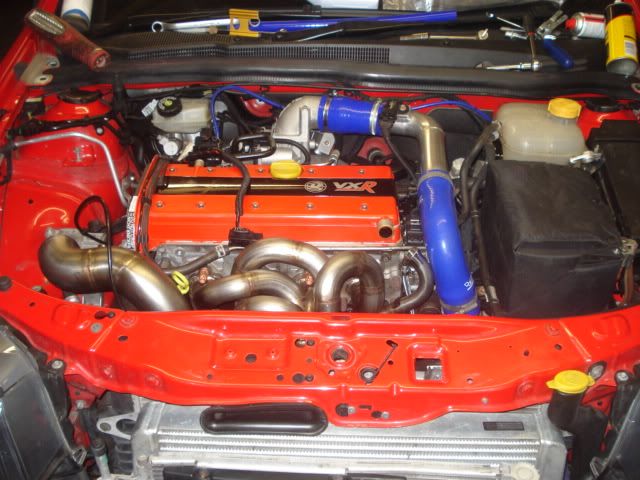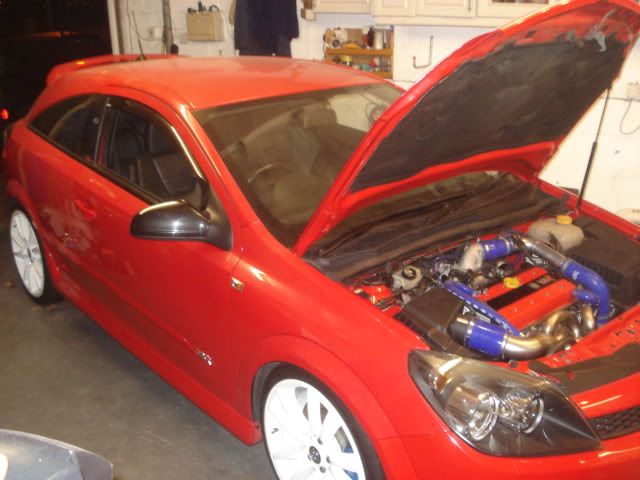 was weird seeing the car with the wheels back on.... hahaha but a relief as we thought we wouldnt see the day again.
after this we ran the car for a few hours to see if any leaks or anything, to find that the rear crank seal was leaking as the sping had came off the back. so gearbox back out etc and replaced it with one from vaux which caused alot of upset again...
BUT...after the first blast out to the back road made it all worth while... jeeeesus was it quick. was giving some mad scream which richard from thorney later told us was caused from all the boost in the pace intercooler pipework and that it would need 71mm at least as we thought the turbo was getting no oil.
another couple of phonecalls to john thorne later and it was decided that the car was going down to milton keynes on the back off a trailer and being left with them for 2weeks while they checked my brothers handy work (something i fully trusted as he was a vuaxhall master technician for years and only stopped 3years ago) and to do all the mapping on the car and fit the bigger injectors etc...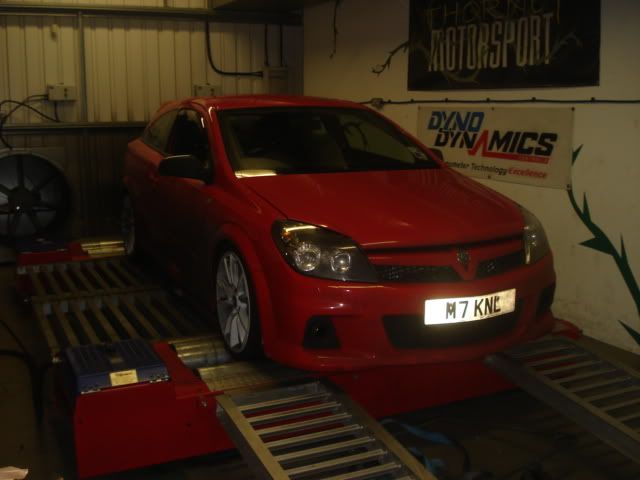 on the rollers taken by richard...
and now some taking abit more professionally by adam...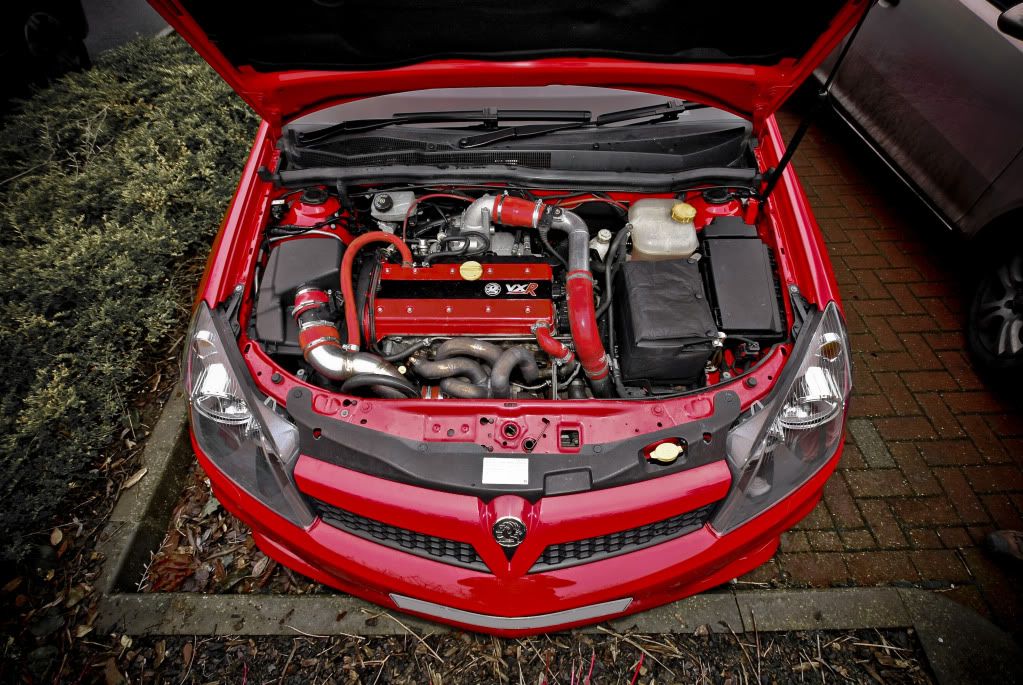 and just some at my cousins workplace in daventry, the techspeed touring car workshop...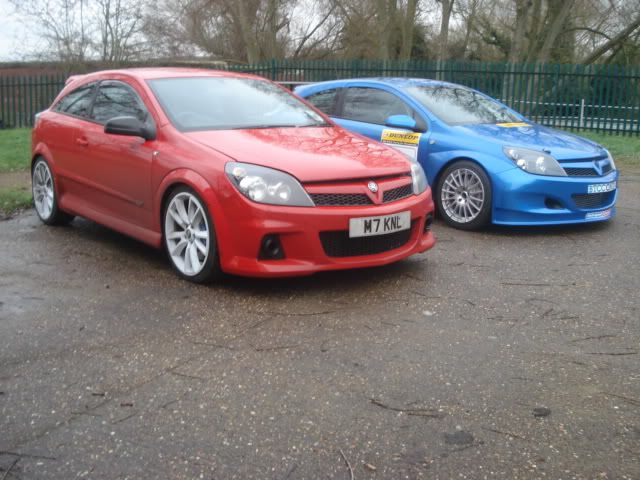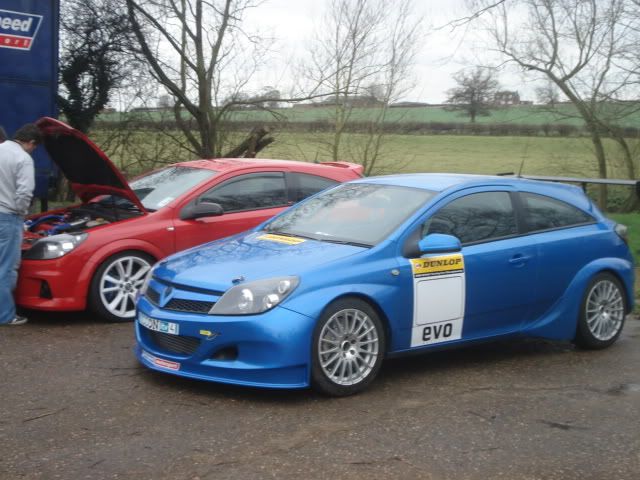 and thats it....there is still a couple things to come from thorney that have been back ordered. and have just purchased coolant hoses and a forge alloy header tank which i hope will be here before PVS...
will post up the pics when there fitted and also get the dyno graphs. but it was in the region of 385bhp now. richard had a more powerfull map on the car but its crazy enough as it is in the 1-3rd gear so he just used the sport button as a throttle map
again thanks to john so far but i am far from finished with the car... hopefully see it if john has a stand at PVS and also hoping that total vauxhall will do a feature on it aswell.
ccheers for looking and all comments welcomed