FRIDAY
PICK UP FROM DEALERSHIP
Well after nearly six months of waiting my vxr astra finally arrived at Greens of Holborough my local Vauxhalldealership....
I knew from the start what i wanted from this car and had prearranged with the dealer principal to help me out while the car was in their care so they agreed to put the car on ramps for a week to enable me to have the wheels sent off .....
The car was then placed on vectra vxr 19" alloys...
SATURDAY
INTERIOR...
Next was a trip to Leicester to classic car services a professional leather re-trimmers and upholsters with whom i had discussed what i wanted from the interior of the vxr and had sent me samples as well as different ideas of what would suit the style and colour of the car....
I chose classic car services from a list of 7 due to the fact that they were a well established company who have produced interiors for show cars aswell as magazine shoots and they came highly recommended....
They agreed to let me replace my vxr recaros with like for like seats for a week which meant i could return in 1 week to pick my new seats up!!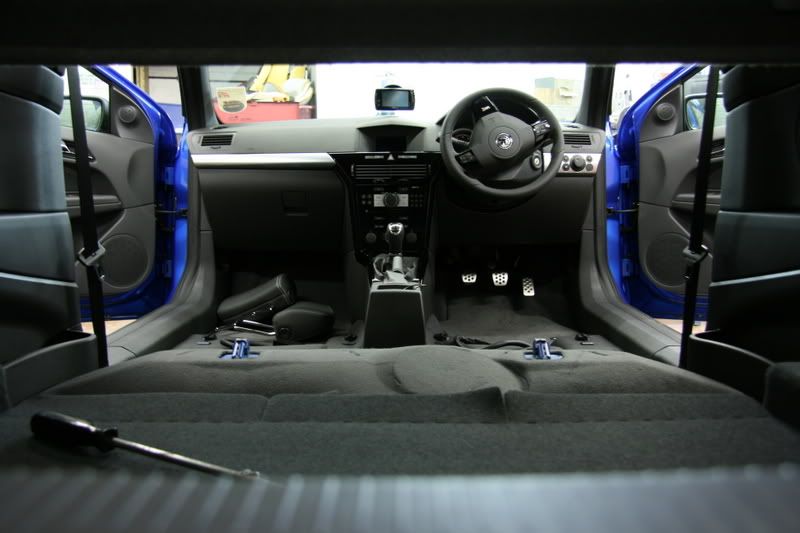 The spec i had decided on with Steve was for a top quality Scottish Weir which had been dyed and matched the metallic Arden Blue paintwork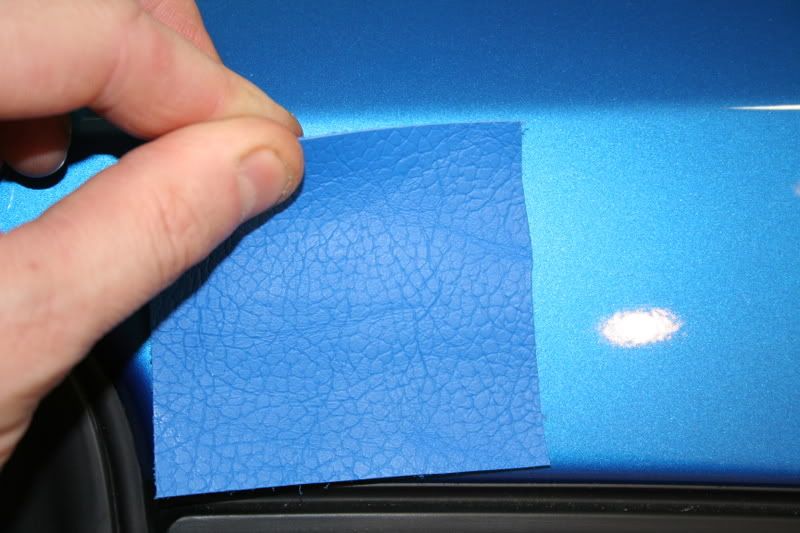 I also requested vxr embroiderry on the headrests...
2 hours later and i returned from Leicester ready to start the detail...
The car was nice and dirty ready for my detail..
FOAMBATH...
I decided to give the car a foam bath first using autobrites foam lance and supersnow foam....I also sprayed the arches with megs apc diluted 4:1
Before karchering the car i was surprised at how the foam was running down the sides of the car dirty so it was obviously eating in to the dirt nicely...
WASH
Next using zymol autowash and a natural sea sponge i used the 2 bucket method to wash the car before spraying off and pouring 100 litres of zero ppm r.o water over it...
DRYING...
I then put the car into the garage and using sonus ultimate drying towels and aquatouch towels proceeded to dry the car whilst using Megs last touch to aid with the drying...
I paid particular attention to door and boot shuts...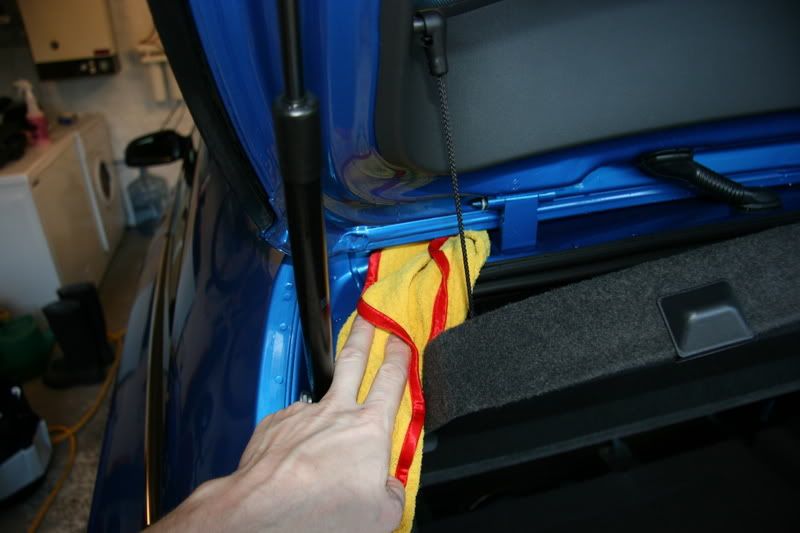 CLAYING...
Now the car was dry i decided to clay the car. The clay i used was zymols lehm clayjust simply because i have had good results with this before and it was a toss up between this and sonus green....
I made a mixture of claylube from zymol autowash and zero ppm r.o water...
Once i started to clay the car i noticed what i can only describe as a fine pitting and rough surface which felt like overspray but could not visibly see anything...
After a panel the clay was not actually to dirty so i proceeded to clay the whole car regularly turning the claybar and this was the worst it got
The paintwork felt silky smooth now and i was happy that i had no marring on the paintwork probably due to being over cautious with the clay lube on a new car!!!!
I then washed the car again , dryed and placed in the garage overnight ready for sunday and paintwork correction....
I asked Paul Dalton to give me some advice on this issue being a new car and how he felt about helping me to get the result that i was looking for and to give the car the best start with regards to its bodywork...We eventually went out for the night and thrashed out a deal we were both happy with over the space of 4 days to get the look i wanted!
SUNDAY
INSPECTION...
Paul arrived on the dot at 9am and saw the car for the first time.
Before he did anything he looked the car over and pointed out that to get the perfect result he would need to do some tests and paint gauge readings to accertain what he needed to do paintwork correction wise to rid the paintwork of the hills and valleys and to get a nice level surface for maximum reflection...
First he checked the car for blemishes with a 3m pps colour checklight ..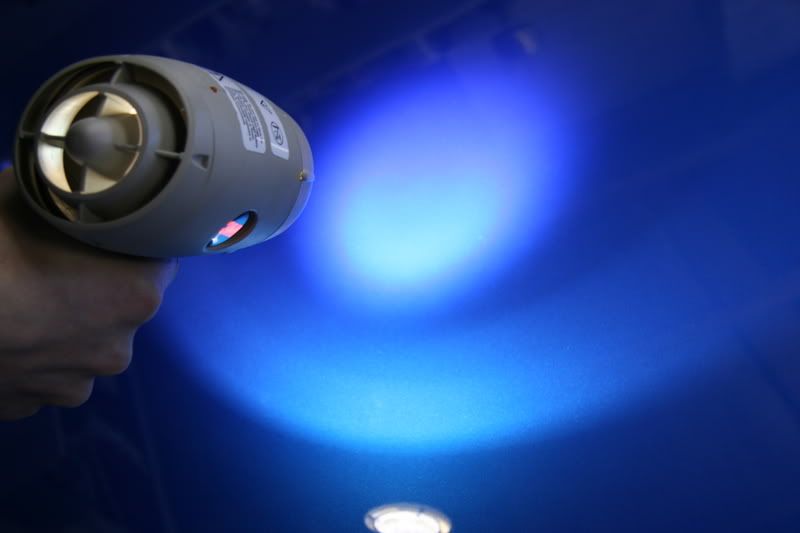 Straight away he found some scratches that must have come from factory (pray i didnt do them). I had instructed my dealership Greens of Holborough not to touch the car upon delivery off the transporter even to the point of leaving all window stickers on!!!! They did this perfectly for me.
PAINT DEPTH READINGS...
Paul then explained to me that to get an accurate assesment of the Vauxhall paintwork he would need to take 25 individual readings from each panel to build up a 3d picture in his head of how he would tackle this....He also told me the data would be loaded into a laptop after all readings were taken..
He then proceeded to take all relavent readings and downloaded them
Next Paul explained to me that everypanel had a batch number which were as follows:
Batch 1.1 = roof
Batch 1.2 = bonnet
Batch 1.3 = nearside front wing
Batch 1.4 = nearside front door
Batch 1.5 = nearside rear quarter panel
Batch 1.6 = offside front wing
Batch 1.7 = offside front door
Batch 1.8 = offside rear quarter panel
Batch 1.9 = boot
This is a graph representing the roof panel of the vxr...
This showed that the roof panel was 155 microns at the thickest point compared to 120 at the lowest.....
I asked Paul why this was so important and he explained that for maximum reflection you needed to take away the peaks in the clearcoat to a maximum point of the lowest trough microscopically which should flatten the clearcoat to a reading of + or - 2 microns across the board and take no more than 8 microns from the clearcoat for fear of clearcoat failure in the future....
I had had the same discussion recently with a guy from BASF whom i deal with at work and he explained to me exactly the same that clearcoats are desighed to protect the paintwork provided that they maintain an average layer of no more than 8 to 10 microns being removed...He explained that with regards to paintwork you could happily do this 3 to 4 times to take to the 8 micron barrier!
Now that the readings were taken Paul was surprised at how good he felt the Vauxhall paint was in comparison to some other marques. He agreed with me though that the clearcoat finish had a very fine pin pricked effect of which he said he would remove and inspected it and showed me it under a magnified illuminated linen tester...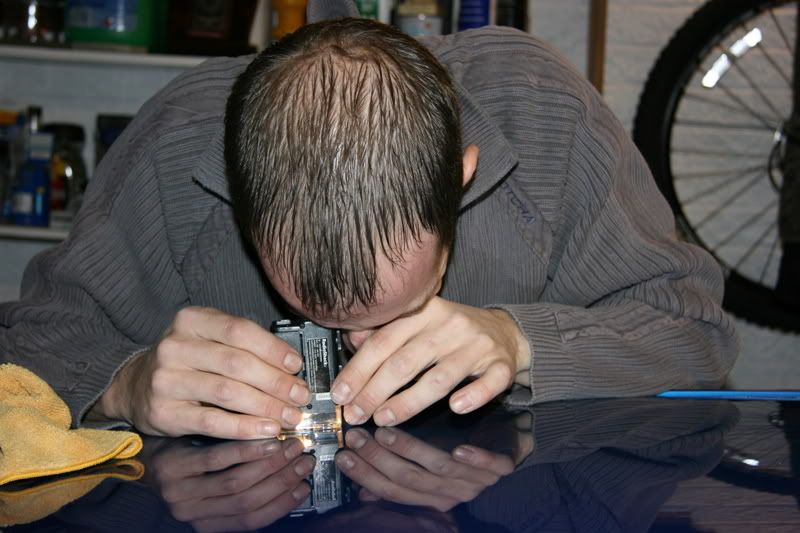 PAINTWORK CORRECTION
Paul then set about paintwork correction on the car and using his rotary started to work on the panels then taking paintwork readings..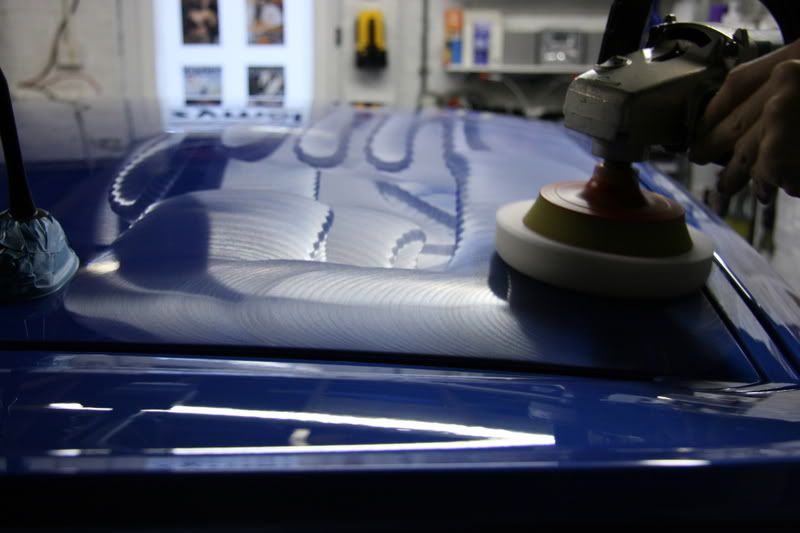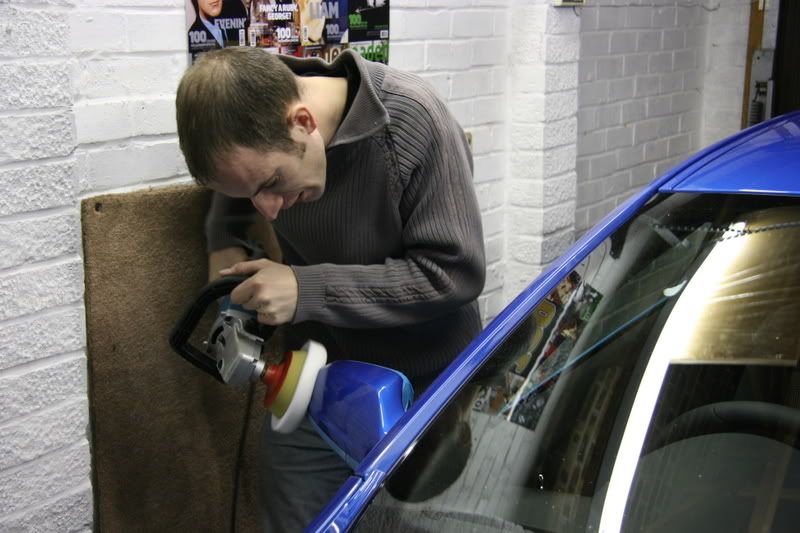 He then changed to smaller pads for more intricate areas...
He explained how he was looking for changes in the polishes he was using and from time to time mixed up some additives and polishes before applying to new pads and starting again..
With Paul now finishing the paintwork correction he was taking readings again and restarting again until he was happy...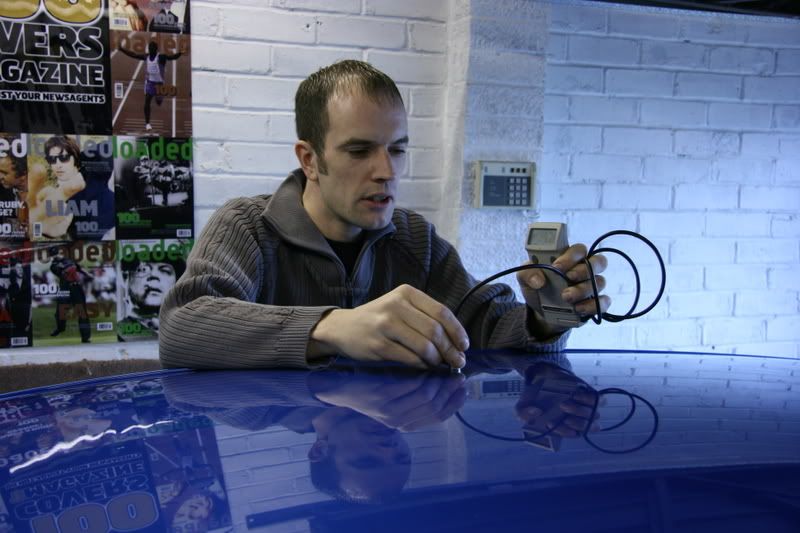 He then pointed out to me that he had noticed a slight imperfection to do with headlight distortion which he proceeded to show me on the headlights....I have to be honest i thought they were fine but he said he would do headlight correction on them and make them perfect and he proceeded to skim what he said was approxumatly 1 micron off with a diamond polish until they were crystal clear....I was quite surprised at the result...
He then machine polished them to get a perfect shine and clarity in the headlight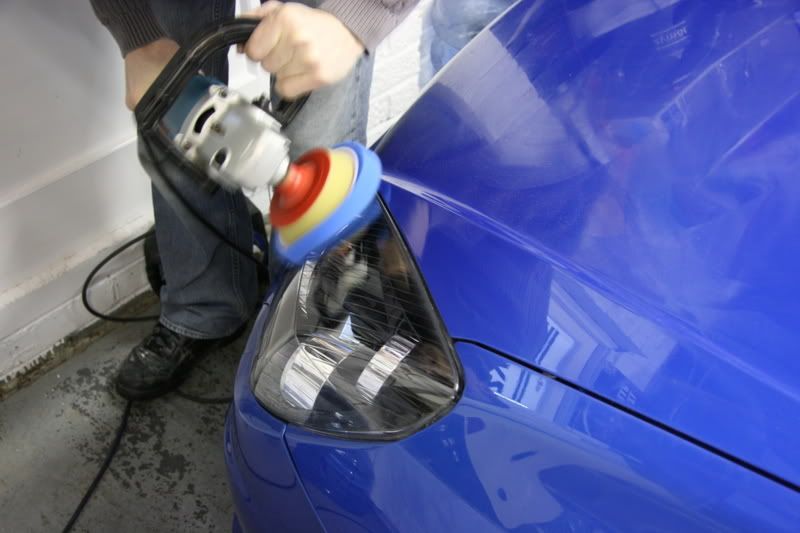 The result was superb
BEFORE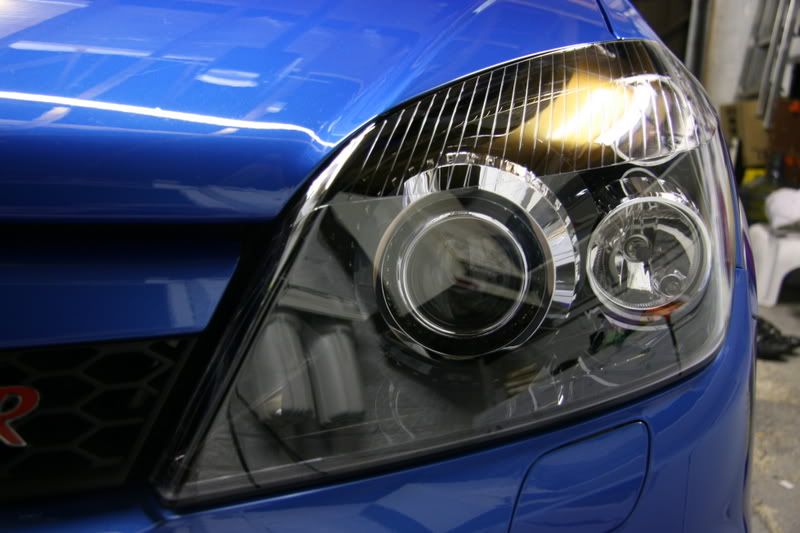 AFTER
MICROSCOPIC MACHINE POLISHING
Now with the paintwork correction finished Paul set to work m/c polishing the paintwork in preparation for the hd cleanse stage and waxing....
Paul used many products at this stage including 3m and Menzerna and used some additives and oils of his own which he refused to talk about...he just smiled!!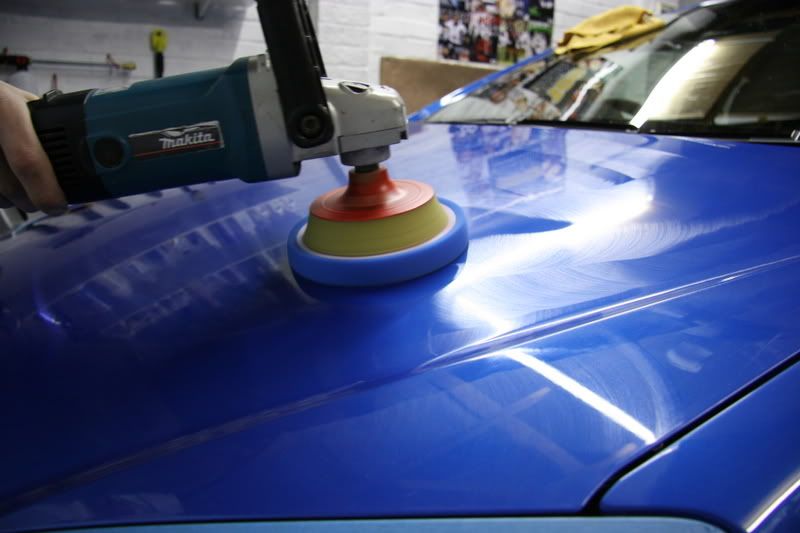 He explained to me how he worked in chequer boards and looked for changes in oil and composition of polish before deciding when to stop at maximum point of breakdown...
DECISIONS
The next stage was really to decide what we both felt would be best for the paintwork and to choose which wax to use out of Pauls massive collection...
Owning Zymol titanium , Concours and Destiny i felt it only right to keep it in the family as i love their products so much we decided on Zymol Royale.....It seemed rude not to...
We decided to apply Royale over 4 days to get multiple layers on and decided on 4 layers.....
HD-CLEANSE
I then set about hd cleansing the paintwork...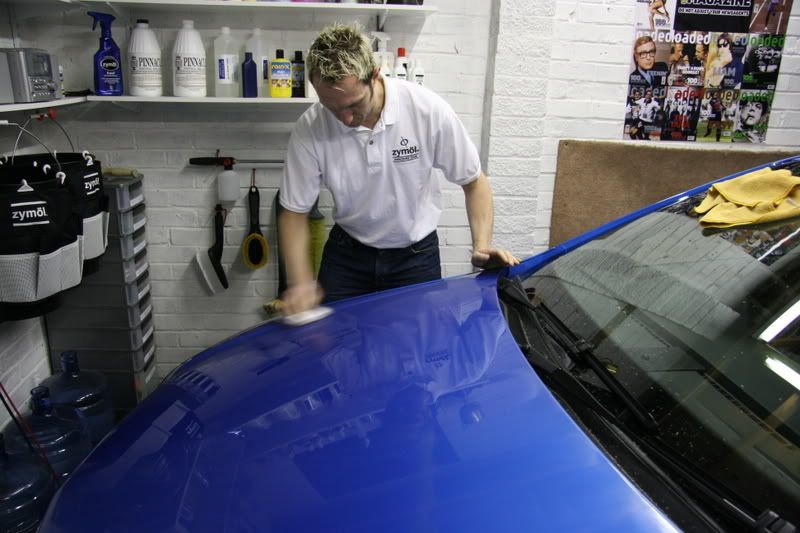 I told Paul that i wanted to go over the paintwork twice which he agreed with...and then i proceeded to wipe it off...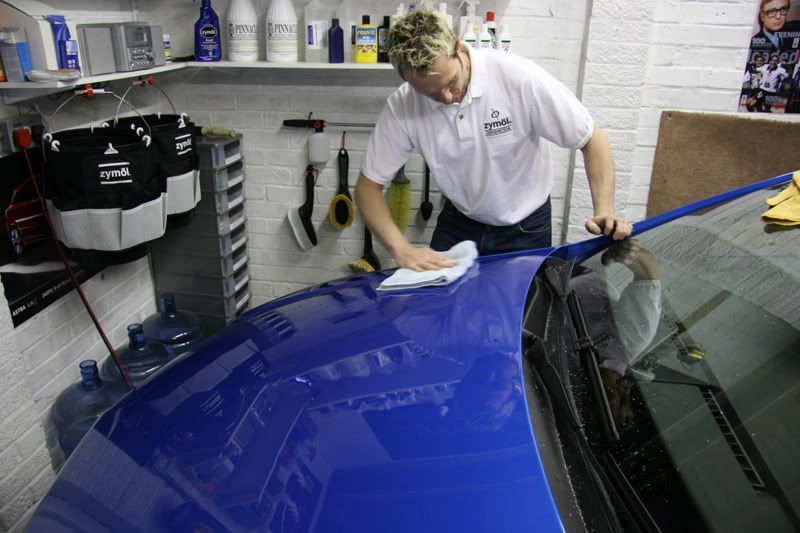 ZYMOL ROYALE
This was my favourite stage throughout the day....
I was quite surprised at how lumpy the royale seemed compared to my Destiny and other zymol waxes and it was definetly not as easy to apply which now makes me understand posts when people state that the high end glazes are not easy to work with....
We both applied the wax one side each ...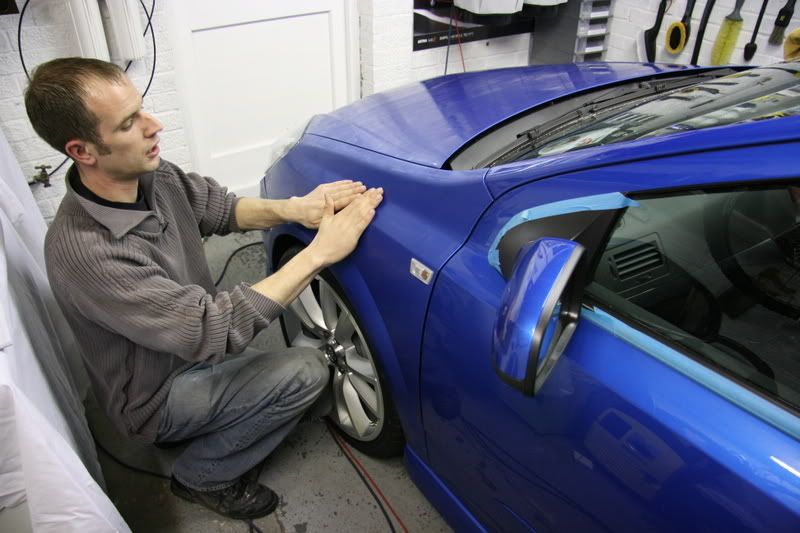 After the wax had taken on the bodywork after about 5 minutes we proceeded to gently buff off.....
THE RESULTS
Well let me say that before and after shots are taken at different times of day and lighting etc changed so can only try and get best balance possible setting lighting to tungsten to get fairest result.......
BONNET BEFORE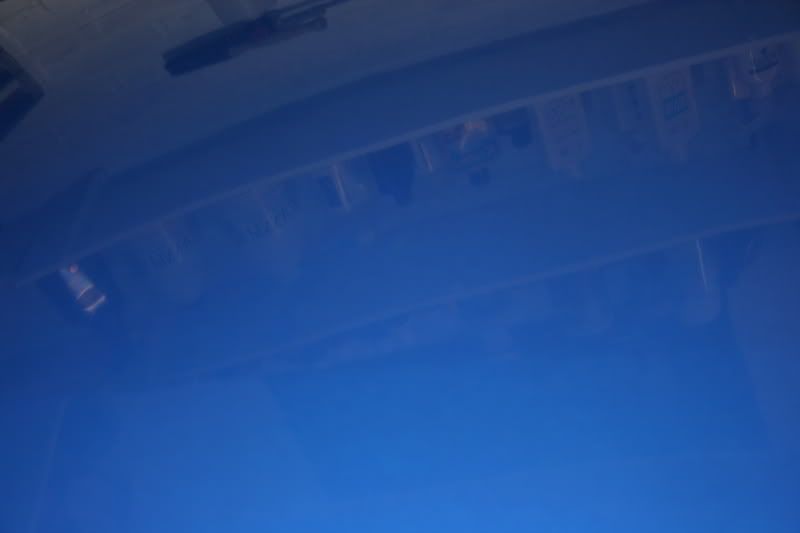 BONNET AFTER
REFLECTION SHOTS
That was sunday finished...
MONDAY
WHEELS
Today was all about the wheels ...
When i ordered the car i knew i wanted a look away from the standard silver but didnt want to go to bling s looked into pure chrome but was advised against it due to poor rim protection and £500 per wheel cost....
So spoke to a few wheel guys and decided on an american chromium finish with diamond tipped faces witha double clear laquer to protect the bare ally in the event of stone chippage...
Clayed the wheels first..
Then hd cleansed...
Then the wheels were royaled fronts and titaniumed backs....
OLD WHEEL
NEW WHEEL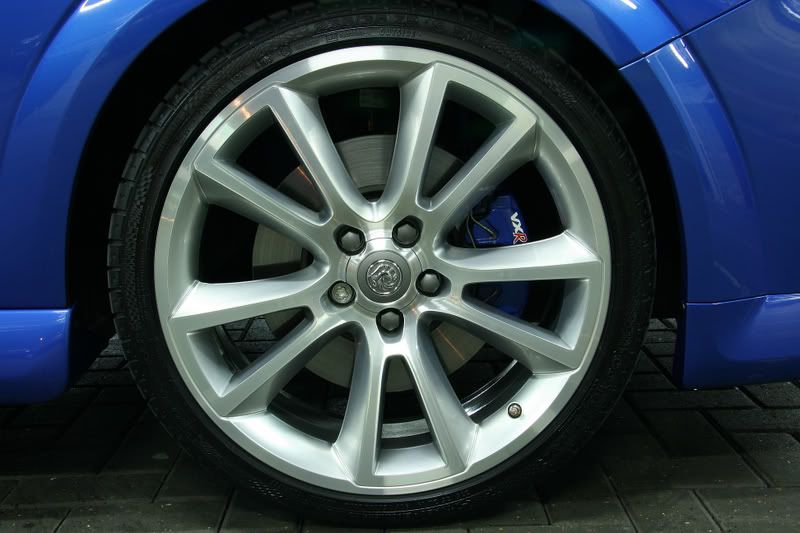 The car was washed and dryed and Royaled again Tuesday , Wednesday and Thursday including wheels....
SATURDAY
Back to Leicester to ccs to see new interior...
Walking in i spotted my seats which i thought looked dynamite and exactly what i wanted....
Steve had been totally professional emailing me every day including shots of the stitching and retrimming as he was doing it!!!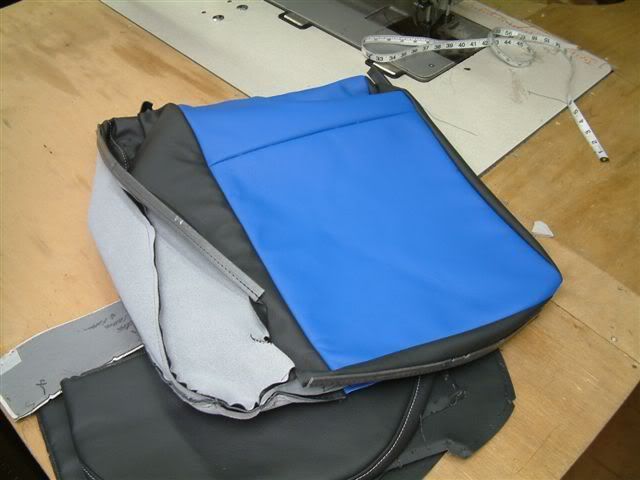 And my fronts finished...
And my embroiderry...
So my cars complete and im over the moon with it ....
FINAL SHOTS...
DEPTH IN BOOT LIKE DEATHSTAR LANDING BAY!!!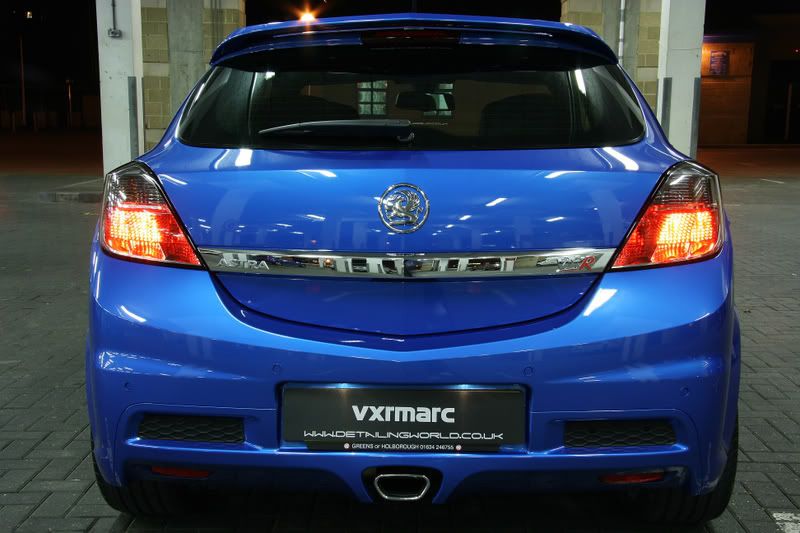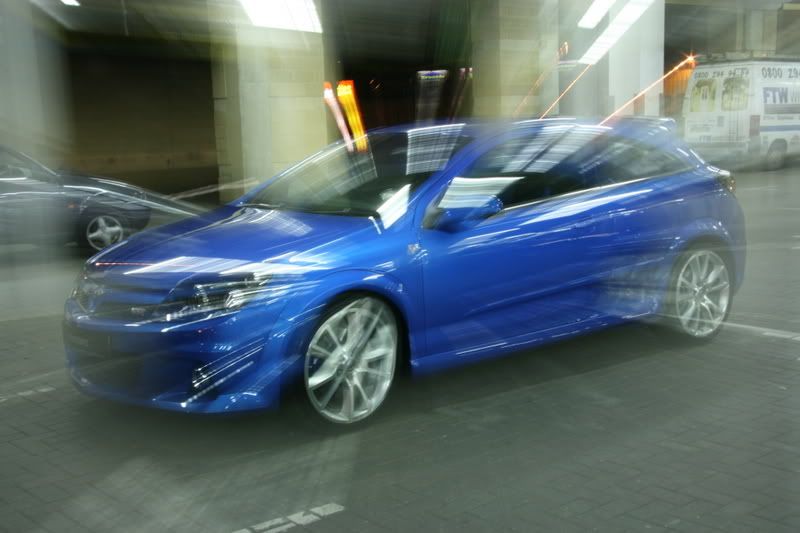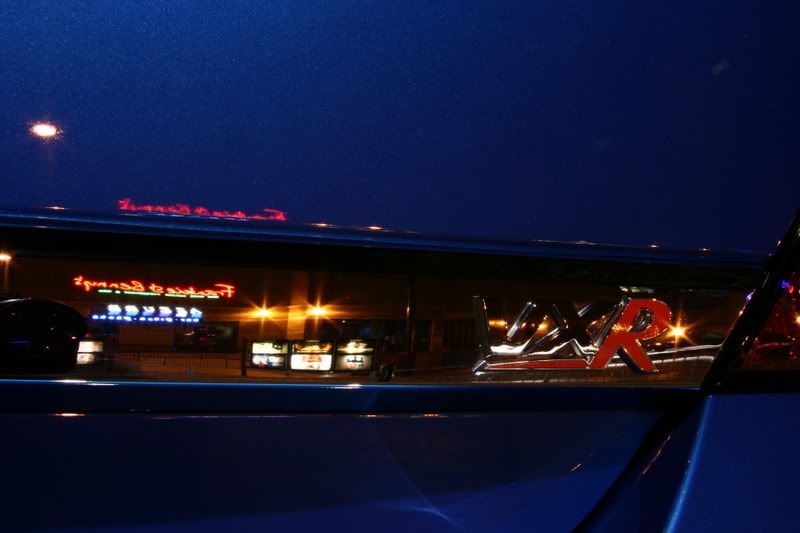 GREAT ARCHITECTURE OR GRAND DESIGN?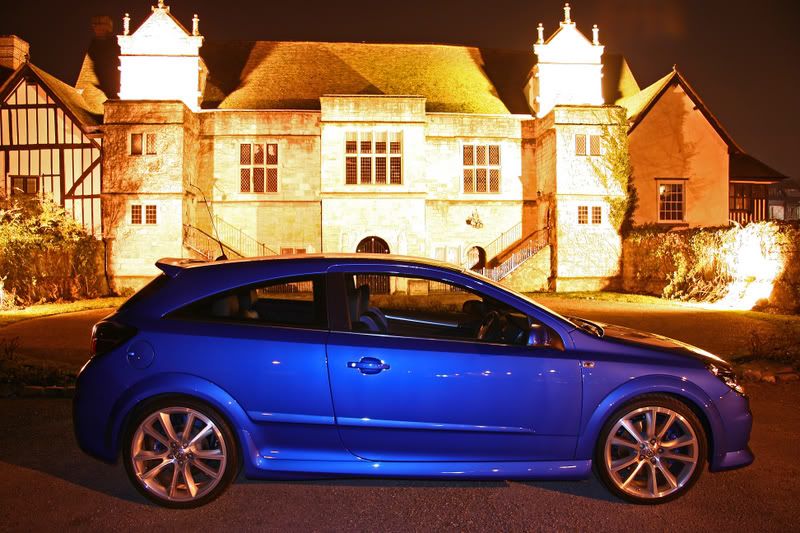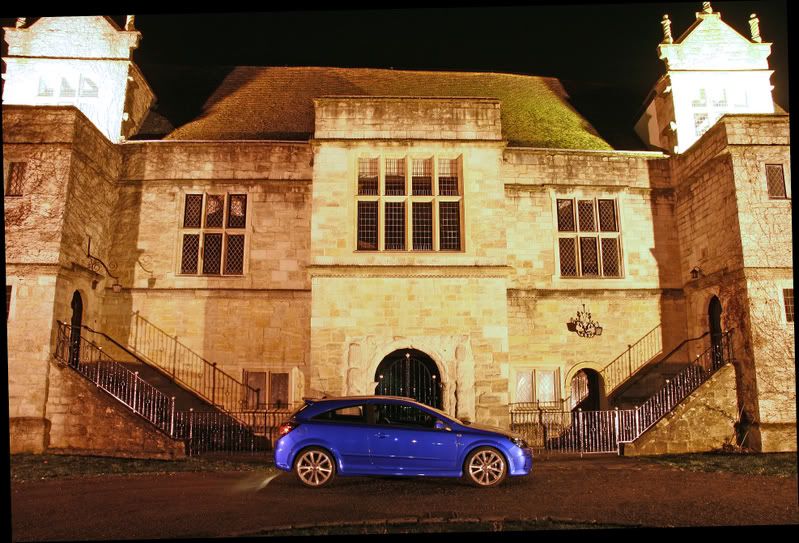 MODERN ART OR TECHNOLOGICAL MASTERPIECE?
EYES IN THE NIGHT!
NO RUSH!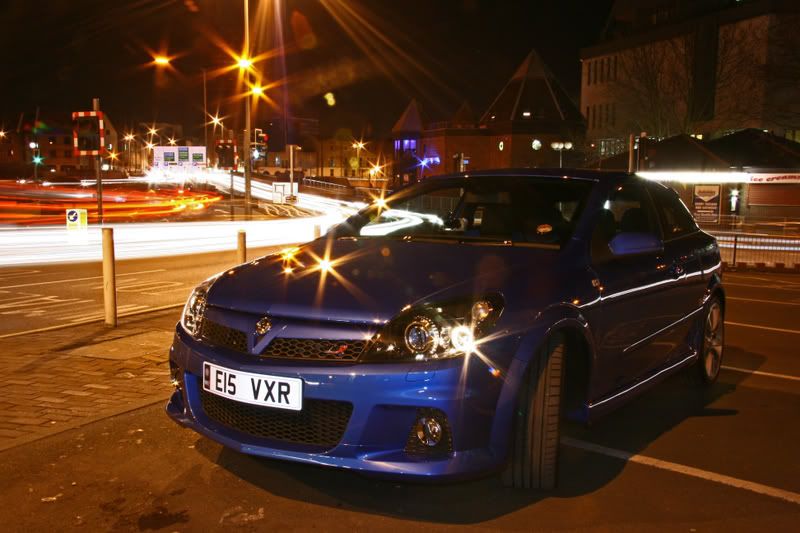 Zymol royale on bonnet......
water repelency!!!!!!
http://www.youtube.com/watch?v=0TszY1ZqxiA