I have had so many emails etc from people that someone somewhere in the world has started posting a vxr detail pi$$take on forums in uk and abroad and i thought you could laugh a long with me......Vauxhall have surely got some vxr attention now...
Get a cup of tea and enjoy!!!!
FRIDAY
PICK UP FROM COAT SHOP
Well after nearly six months of waiting my Parka extreme weather jacket finally arrived at The Face, London. My favorite coat dealership.
I knew from the start what i wanted from this jacket and had prearranged with the dealer principal to help me out while the jacket was in their care so they agreed to put the car on a hangar for a week to enable me to have the buttons sent off .....
The jacket was then placed fitted with olive green plastic buttons throughout
SATURDAY
Badges
Next was a trip to Leicester to Parka Jacket patches & Badges services, a professional patch sewing on establishment with whom I had discussed what I wanted from the arms of the jacket, and had sent me samples, as well as different ideas of what would suit the style and colour of the coat.
I chose Parka Jacket patches & Badges services from a list of 7 due to the fact that they were a well established company who have produced patches for show jackets, as well as magazine shoots and they came highly recommended....
They agreed to let me replace my standard peace symbol patches with like for like union flag patches for a week which meant I could return in 1 week to pick my new patches up!!
The spec I had decided on with Steve was for a top quality Moon Ska USA patch and union flag patch for the left arm, with a voodoo glow skulls crest and god save the queen patch for the right arm. The patches had been hand made and were simply super dooper stick it up my joomper.
2 hours later and I returned from Leicester ready to start the detail...
The jacket was nice and dirty ready for my detail..
WASH
I decided to give the coat a run through the washing machine (Hotpoint) at 40°C using Persil Bio Liquigel Capsules… I also sprayed the armpits with Oxi Clean Active beforehand.
DRYING...
The jacket was then put on final spin, and then using the washing line in the back garden, I proceeded to dry the jacket using the suns powerful rays, and the cool breeze of a spring afternoon. The jacket was then placed in the airing cupboard to aid with the drying...
FUZZAWAY
Now the car was dry i decided to fuzzaway the coat. The device I used was a Remiongton fuzzaway simply because i have had good results with this before and it was a toss up between this and hitting myself repeatedly about the face with a shovel…
Once i started to fuzzaway the coat I noticed what I can only describe as seams where the arms met the body of the jacket. There was also a few patches of bobbling which felt like bobbles, but could not visibly see anything, other than my wife packing a suitcase and complaining that we never make love anymore...
After an arm, the Remington Fuzzaway was not actually too full, so I proceeded to fuzzaway the whole jacket regularly emptying the Remington Fuzzaway and this was the worst it got:
The fabric felt silky smooth now and I was happy that I had no marring on the jacket probably due to being over cautious with the Remington Fuzzaway on a new coat!!!!
I then got the missus to wash the jacket again , dried it and placed in the wardrobe overnight ready for sunday and textile correction....
I asked Paul Dalton to give me some advice on this issue being a new Parka and how he felt about helping me to get the result that I was looking for and to give the jacket the best start with regards to its fabric...We eventually went out for the night and thrashed out a deal we were both happy with over the space of 4 days to get the look I wanted! I had to perform oral sex on him, and he hurt my bottom, but I thought the end product would be worth it.
SUNDAY
INSPECTION...
Paul arrived on the dot at 9am and saw the Parka for the first time.
Before he did anything he looked the jacket over and pointed out that to get the perfect result he would need to do some tests and fabric gauge readings to accertain what he needed to do textile correction wise to rid the fabric of dropped stitches, and to correct the mistakes 3 year old Chinese girls had made in the factory.
First he checked the car for blemishes with a lighter .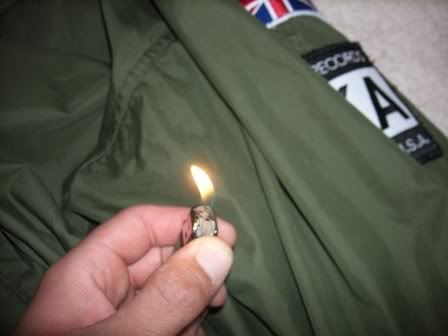 Straight away he found some loose threads that must have come from factory (pray I didn't do them). I had instructed my dealership The Face of London not to touch the jacket upon delivery off the transporter even to the point of leaving all price tags on!!!! They did this perfectly for me.
FABRIC DEPTH READINGS...
Paul then explained to me that to get an accurate assesment of the Parka Jacket's fabric he would need to take 25 individual readings from each part of the jacket to build up a 3d picture in his head of how he would tackle this....He also told me the data would be loaded into a laptop after all readings were taken..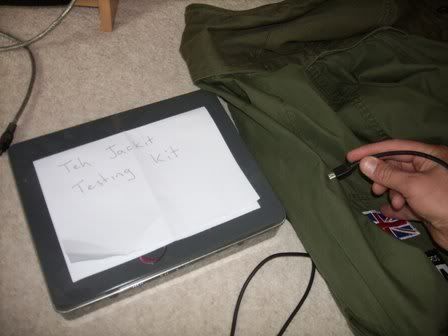 He then proceeded to let his cat take all relevant readings and then downloaded them.
Next Paul explained to me that every piece of fabric had a batch number which were as follows:
Batch 1.1 = left arm
Batch 1.2 = bright arm
Batch 1.3 = hood
Batch 1.4 = front bit
Batch 1.5 = back bit
Batch 1.6 = left pocket
Batch 1.7 = right pocket
Batch 1.8 = zip
Batch 1.9 = pull chords
This is a graph representing the hood of the Parka..
[img][/img]picture removed, it's a bit rude
This showed that the hood was 155 microns at the thickest point compared to 120 at the lowest.....
I asked Paul why this was so important and he explained that for maximum fashion sense you needed to take away the stiching in the fabric to a maximum point of the lowest trough microscopically which should flatten the coat to a reading of + or - 2 microns across the board and take no more than 8 microns from the fabric for fear of jacket failure in the future....
I had had the same discussion recently with a guy from Topman whom I deal with at work and he explained to me exactly the same that stitches are designed to protect the jacket provided that they maintain an average layer of no more than 8 to 10 microns being removed...He explained that with regards to Parka Jackets you could happily do this 3 to 4 times to take to the 8 micron barrier!
Now that the readings were taken Paul was surprised at how good he felt the Parka fabric was in comparison to some other marques. He agreed with me though that the fabric had a very fine pin pricked effect of which he said he would remove and inspected it and showed me it under his trousers...
FABRIC CORRECTION
Paul then set about fabric correction on the jacket, and using his handsaw started to work on the coat then taking fabric readings..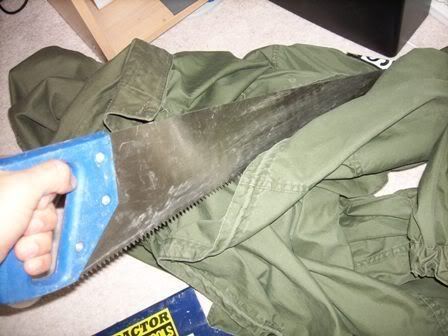 With paul now finished with the correction, he was taking readings again and restarting again until he was happy
MICROSCOPIC STAIN REMOVAL
Now with the fabric correction finished Paul set to work removing tiny stains from the fabric using Vanish Oxi Action Multi, in preparation for the ironing. The tab was added to a regular wash at 40°C
DECISIONS
The next stage was really to decide what we both felt would be best for the jacket and to choose which ironing water to use when ironing the Parka. Owning Comfort Vaporesse passion flower, ylang ylang, and Lily & riceflower, I felt it only right to keep it in the family as I love their products so much we decided on Comfort Vaporesse Lily & riceflower...It seemed rude not to...
We decided to Iron the Parka using the Comfort Vaporesse over 4 days to get multiple ironing runs done, and decided on 4 lots of ironing...
COMFORT VAPORESSE LILY & RICEFLOWER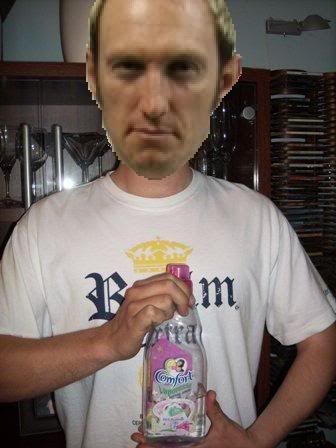 This was my favourite stage throughout the day
was quite surprised at how nice the Comfort Vaporesse Lily & riceflower smelt compared to water, which smells of nothing and it was definetly not as easy to pour into the iron, due to the fact that I am a cockmaster. Which now makes me understand posts when people state that the high end Ironing Waters are not easy to work with....
We both ironed the jacket using the ironing water
After the jacket was ironed, we made sweet love together.
THE RESULTS
Well let me say that before and after shots are taken at different times of day and lighting etc changed so can only try and get best balance possible setting lighting to tungsten to get fairest result.......
BEFORE
AFTER
REFLECTION SHOTS