would like to present to members of VXRo a
special exclusive one of offer
The first fully portable pressure washer in Europe..
The Mobi Washer V-17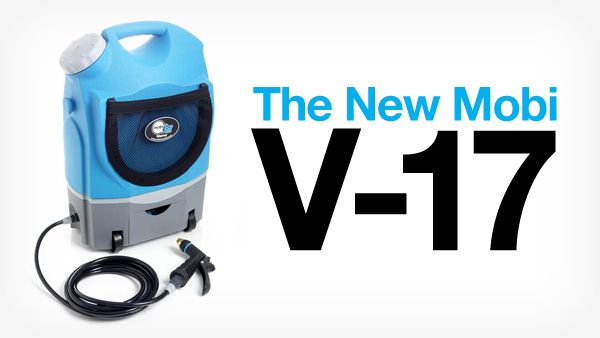 Cleaning just got easier...
Fully portable pressure washer
Internal rechargeable battery
17 Litre Water tank
Mesh Storage Compartment
Wheels
Power Cord
Charger ( Local adaptor required for EU Countries )
Spray Nozzle
Adjustable Nozzle
Trigger Lock
Hose
Fully Portable
The key feature of the V-17 is the internal rechargeable battery, making the unit fully portable and a totally unique innovation for cleaning on the move.
Kind to your stuff
Washing mud off your dog requires less power than shifting mud from your bike. Mobi has a variable pressure output from 45.5psi to 130.5psi, this highest for any portable washer on the UK market. This means you can find the perfect pressure for the occasion.
(ALS) Anti Lag System
Ready to spray whenever you are, Mobi retains pressure in the hose through high-tech pressure sensors. Just press the trigger and the spray starts again immediately without any delay or pressure lag.
Quiet Operation
No matter what pressure you have it set to, Mobi will remain quiet, particularly important for use in quiet country areas.
Light & Spacious
As well as having the highest available pressure, Mobi is also lighter and has a larger tank than any other portable pressure washer on the UK market.
Portable Power
The V-17 is a fully portable pressure washer powered by an internal 12V rechargeable battery. In addition, you can power the unit from any 12v outlet.
Ultra Versatile
From spaniels to surfing equipment, Mobi can clean it all. If you have a new use for mobi
http://www.youtube.com/watch?v=gF4HkmGsMfY
A recent review from Total Vauxhall mag....
http://www.mobiwasher.co.uk/news/wp-...uxhall_PDF.pdf
The UK retail price of the Mobi V-17 is
£149.99
inc vat and postage
Juicy Detailing.co.uk can offer members a exclusive one off deal to you including vat
£116.75
carriage is only £7.95 UK mainland only
This has got to be the ideal addition to anyones detailing collection and a MUST for shows or those that do not have access to a pressure washer.
for more information please check out
www.mobiwasher.co.uk
http://www.youtube.com/watch?v=ltQT-UE4Ihw
Please drop me a pm if your interested or an email to
[email protected]