hi
i have a brand new gilmour snow foam gun forsale still boxed i had 5 this is the last one avalible
brand new and boxed
The Gilmour Foamaster gun produces unbelieveable amounts of foam
You can create a thick blanket of foam to cover your vehicle, initially to remove any excess dirt or road traffic film. We advise two applications, the first to be left to soak and then rinsed off, and with the second coat you can use a wash mitt to work it in.
The gun works well with most concentrated car shampoos.
Note: The improved Gilmour Foamaster II also benefits from a leak proof hoselock male connection that is a perfect fit for the general garden female hoselock connectors, a significant improvement over the original Foamaster Gun.
Features:
Exceptional chemical resistance to acidic or caustic cleaners
Accurately mixes and sprays foaming chemicals
Foam generating wand creates a thick, clinging foam
Fan spray deflector included for disinfectants, etc.
Durable polymer mixing head with stainless steel screws
Quick-set dial selects mixing ratio
Anti-siphon built into handle
Detachable handle for a powerful spray rinse
Easy to fill wide mouth, chemical resistant polyethylene quart gallon bottle
Operational Specifications:
Water Pressure - 40 to 90 psi (for maximum accuracy 40 to 60 psi)
Output - 1-1.5 gallons per minute
Spray Pattern - Foaming attachment provides a fan spray or removes for a solid stream. Deflector attachment for non foaming fan spray patterns.
Anti-siphon - Protects water supply. (Note: a slight discharge of water from base of handle when water is turned off is normal and indicates anti-siphon is functioning properly.)
Standard Single Ratio - 4fl oz per gallon of solution sprayed.
Customized Ratios - Can be set from 0.25oz per gallon to 14oz per gallon. (Note: this range is affected by the viscosity of the chemical.)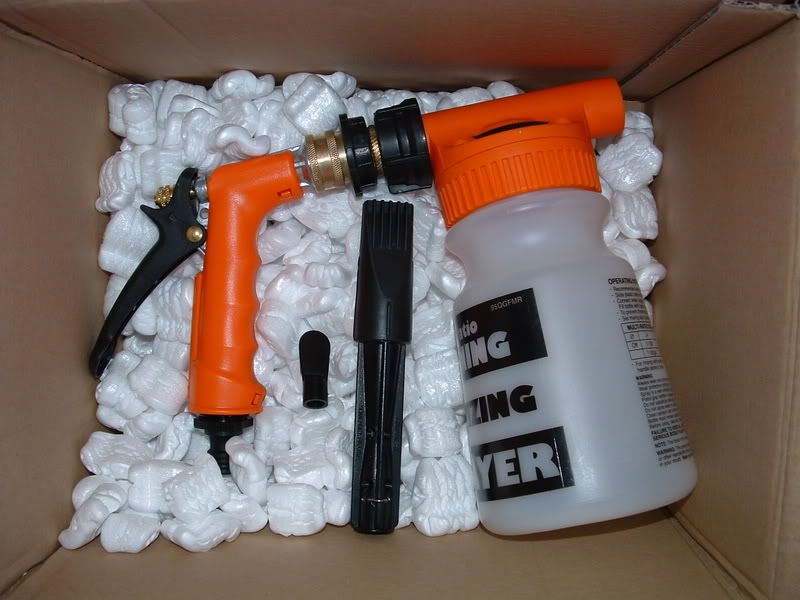 £45 plus p&p
paypal and cheques accepted
thanks
wayenr