Car for sale:
Honda Civic CRX 1.6i DOHC VTEC
Year:
1992 (J)
Colour:
Vogue Silver
Condition:
1992 Honda Civic CRX
1.6i DOHC VTEC
in Vogue Silver.
Its my brother in laws car, whose owned it since around 2003 off the top of my head.
He was planning on keeping it, but since has proudly become a father of two lovely kids, and has bought something alot more sensible (2004 BMW)
So the time has come for the CRX to go.
Right so the car,
Its got 172k on the clock with loads and loads of service history dating all the way back to 1992!
Fully stamped service book, previous mot's etc.
NO TAX OR MOT!! Has been parked up for the past 9 months.
Still drives and starts fine, battery went a bit flat, but with a jumpstart its all good, still drives spot on, vtec kicks in as of when it should and sounds bloody awesome!
The bodywork isnt the best, and isnt the worst on the other hand aswell, seen alot worse!
Both rear arches would need doing 100%
No dents, just few patches of rust on both rear arches, and its starting to go through, its been parked up for so long.
Someone stole the front bumper indicators, so had to take em off from my other CRX 16 16, and as you would know, they are diffrent, but still do the trick!
I drove it yesterday after ages, and still drives like it should, but is a very very harsh and bumpy ride, due to the 16" alloys and ride height!
But still pulls like a trains, and sounds crazy!!
It is nearly 20 years old, so it is far from perfect, if it was a perfect model then it would be up for sale around the 3-4k mark regardless of the mileage.
It does need money spending on it so it can then look as good as it used to!
Location:
MK40, Bedford
Modifications:
Comes with either 16" Borbet Deep Dish alloys wrapped in very good tyres, or 14" Standard Honda alloys again wrapped in really good tyres with loads of tread left.
Its got an induction kit, decat, scorpion backbox, bit low and loose, but all still on the car!
Short shoft gearbox, engine start button, adjustable KYB coilovers (but no tool to adjust)
Pictures: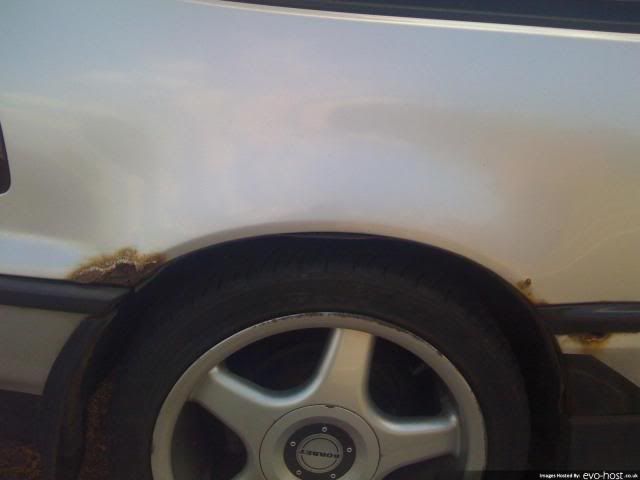 More pics will be uploaded tomorrow, hopefully!
Price:
£700 With standard 14" Honda Alloys
£900 with 16" Borbet Alloys